I've been sipping morning coffee in one of her mugs all week, wanting nothing more than to find myself transported across time and space to the haven of her kitchen table.
Few friendships have been so easy. Few places have felt so safe.
I always miss my grandma but my heart aches in deeper ways when I await another little one soon born to my arms, knowing her charm and grace, her strength and laughter only from photos and stories shared. This little girl we wait for will bear her name. And that blesses and shatters my soul all at once.
A lot of times, I share with you the things I love. Dance parties in our kitchen. Simple days in coffee houses or at the park. Celebrating life of those we hold most dear. But I hate that a flower, a life fragrant and lovely, can spring up only to be blown away as if it had never been rooted there. I hate the thought that its place could be forgotten. And I refuse to let it be so for my Grandma Marge.
And so, we remember.
Last year we started a family tradition of celebrating her birthday, September 19. We broke out her dishes and bowls, mugs and glassware. I made her vegetable soup, complete with the pasta alphabets she always threw in to keep it fun. No matter what time of day or night we finally landed at her house growing up, her soup waited for us on the stove. We finished last year's meal off with typical-Grandma-Foote sides: Mike-Sells potato chips, sloppy joes, dill pickle spears, a can of fruit cocktail with sliced bananas that no one ever ate, and texas sheetcake.
I wasn't up for all that this year, so we opted for a simpler-but-still-very-her meal: grilled cheese with tomato and onion, tomato soup made her way (equal parts Contadina tomato sauce and milk, butter and pepper), popcorn, that can of fruit cocktail plus banana, and Little Debbie Swiss Rolls which she would have on hand to offer someone who stopped by unannounced. Pandora supplied the hymnal backdrop. And I ate the fruit this year. It's still gross. Sorry, Grandma.
I'm thankful. Thankful for her life, for the richness of her days. I'm thankful for the years I spent close to her, college days filled with philosophy over laundry and decaf hazelnut coffee, nights over Rummikub and laughing till our sides hurt, Christmas tree trimming, praying around her table... I'm thankful for the months I spent living with her, breathing her in...watching her put in curlers and apply lipstick with grace. Adoring her as she sat reading mail to a blind neighbor or conducting imaginary orchestras in the kitchen.
And I'm thankful for the rallying of those who knew her, loved her, refuse to forget her. I'm thankful for the sharing of stories, for the new good times, for the way I see so much of her in my aunts.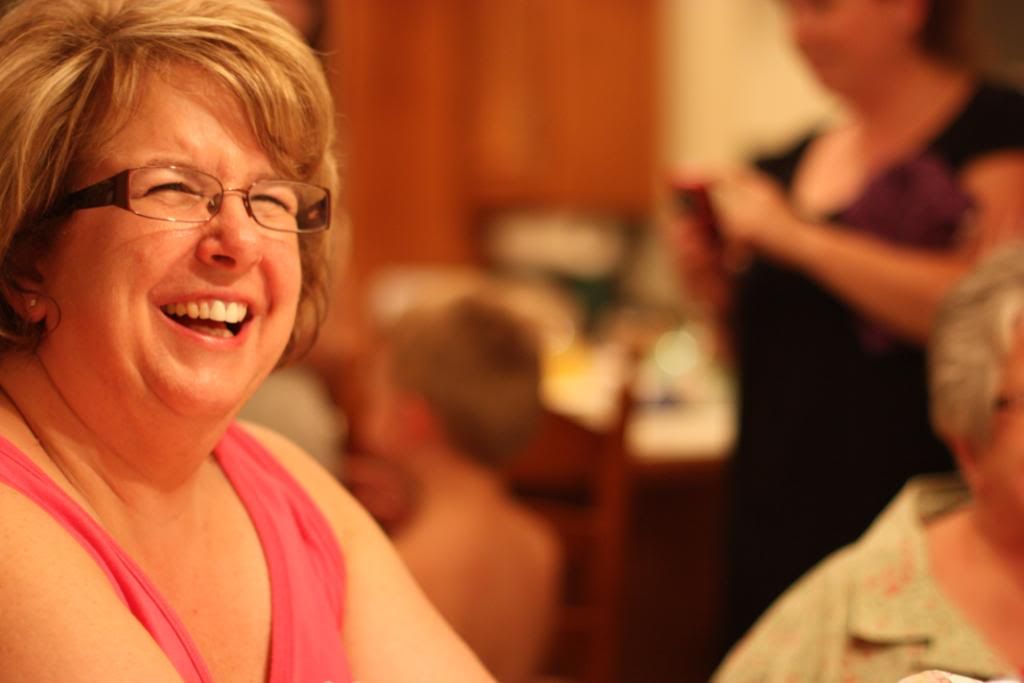 Photo by Kenna.
Photo by Kenna.
And I'm thankful for a little-girl-namesake, who decided not to be born on my Grandma's day, but pick her own speical day, instead.
A sweet little girls' family picnic celebrating Baby Love last Saturday.
For me, be it Christ, be it Christ hence to live:
If Jordan above me shall roll,
No pang shall be mine, for in death as in life
Thou wilt whisper Thy peace to my soul.
It Is Well With My Soul, 1873